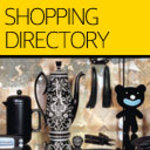 The following blurb is from the front of last week's Guardian's Shopping Directory:
'Identikit high streets packed with mighty brands and virtual shopping malls where all it takes is a mouse and a credit card to avoid the Christmas rushes and surly service - or indeed, any service at all.
The small shops, stocked and run with passion, commitment and specialist knowledge, are still there - but there numbers are dwindling and their squeaky voices are ever harder to hear amid the cacophony of the big-bucks corporate advertising...'
The directory aims to help, with concise listings organized alphabetically by region.
There are a few more I would have added: namely bookshops like 'Topping & Co.'; there are countless more independent gift shops in Bath than 'Hansel und Gretel' and 'Rossiters'; 'Country Threads', at least, in the Arts and Crafts section.
Tanis Taylor writes an very interesting article introducing the Arts and Crafts section: 'is craft a radical re-evaluation of women's skills or is it a slap in the face of feminism'? I've kept my head very much down over the 'Yarnstorm' media scandal earlier this year (sparked by this appalling article in the Telegraph: look at the number of comments to see some fine British outrage. Liz Hunt can now be added to the list of authors that make me froth (but Rosie Millard will always be top: for 2 counts)).
I watched the whole Brocketgate thing develop with increasing feelings of both mild despair and bemusement. I'm with Taylor very much on this: I don't see the increasing number of crafting, domesticated women will lead to the demise of the independent, strong woman. The key argument here is surely that we have the choice - crafting of any sort is not a necessity for British women anymore. We are not forced to sit quietly doing needlework - forgoing education and a career. Yes, Yarnstorm's life does seem idyllic and delightfully simple - but we all know that this cannot be her true life - her blog is simply her portrayal of her private life to the public: to give us all a little gloss, peace and beauty in a sometimes hectic and grey world.
The main accusation leveled at Yarnstorm by Liz is that she incites guilt amongst her readers. Really? I can't imagine any women feel that their crafting lives are pressured upon them; that it is some kind of competition or carry shame about the jumper that took 14 years to complete. Of course, there must be times when we all look at someone else's work and wish we had the time/inspiration/money to make such wonders - wee pangs of envy, perhaps, but surely never obligation? What do other people think?
Here's a sneak preview of Taylor's mentioned upcoming U.S. documentary 'Handmade Nation' (I wonder if it will come to the UK? Or if there will be a simlar UK-based programme?):