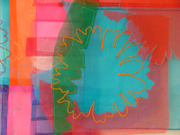 My John's nice parents brought me a lovely book last year by their friend, Isabel Dibden Wright. She's a lecturer on the Embroidery BA course at Manchester Met and uses textiles beautifully (photo, right). (Interestingly, so does John's PhD supervisor - so he's surrounded by quilting!)
It is inspiring - but I'm still learning how to use all the buttons and bobbles on my sewing machine and I'M SCARED!!! But scared-machinists: take heart! Here is a shop with people who can show us how!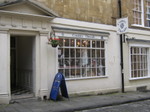 A new colleague at work (hello Charlotte!) is a hardened knitter who has recently started doing patchworking, and she's introduced me to this fab place...which, despite living here for 5 years, and searching avidly for a good fabric shop for about 3 of them, I'd still managed to miss. I must have been too busy looking for fossils in the pavements. Sigh.
It seems pretty wee when you first enter but then...Aladdin would be proud of the room at the back...and there is a classroom downstairs.
Country Threads (2 Pierrepont Place, BA1 1JX; Tel: 01225 480056). There are loads of classes. There is restricted parking but you can unload before you park. Tea and coffee is available but best to bring your own lunch. You can hire a sewing-machine for £1.50/class if you don't want to bring your own. There is a maximum of 12 students/class so everyone benefits from the teacher.
Here is Country Threads' busy schedule:
Christmas Tree Skirt; Val Murray (£20)
Thursday 4th Oct 10.00-16.00
The skirt covers the base and underneath the Christmas tree: based on the diamond log cabin pattern.
Interwoven curved log cabin; Jan Hassard (£25)
Saturday 6th Oct 10.00-15.30
Use of a mix of colours and tones in each log cabin block. (Use of rotary cutting and machine piercing.)
Beginners - come and make a quilt; Jan Prior (£15/day or £25/weekend)
Weekend of 12-13th Oct 10.00-15.30
A simple class for beginners who wish to perfect rotary cutting and machining for a simple quilt top. You can buy their pattern and fabrics there! A day to get you started or the weekend to do the whole project!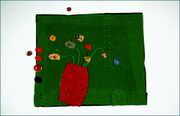 Fabric Collage; Janet Bolton (£35)
Thursday 18th Oct 10.00-15.30
Janet is on the Craft Council Selected Index of Makers and her work (right) is in the British Council Collection and the Embroiders Guild Museum. The main emphasis of this day is to encourage students to develop their own ideas working directly with material and very simple techniques. (Hand sewing only.)
Antique Angels; Lois Brooks (£20)
Saturday 20th Oct 10.00-16.00
Make 10 inch angels out of old lace, doilies and linens. Bring the bits and bobs in your fabric stash and get creative!
Machine Quilting; Val Murray (£20)
Saturday 27th Oct 10.00-15.00
Get to grips with machine quilting; straight lines, curves and stippling! Help with techniques such as wadding threads...and help given with any project! (You need to bring your own machine.)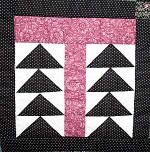 The Versatile Goose; Katharine Guerrier (£25)
Saturday 3rd Nov 10.00-15.30
The goose unit is used often in patchwork blocks (left) and this workshop will help you to piece it precisely and incorporate it into a variety of blocks.
How to make colour work for you; Chris Porter (£27.50)
Wednesday 7th Nov 10.00-15.30/16.00
Learn how to group your fabrics into colour families and add zing to your work!
Yellow Brick Road; Jan Prior (£15, includes pattern)
Saturday 10th Nov 10.00-15.30
Learn to put together a quilt top in a day! (Rotary cutting.)
African Rhythms; Jan Hassard (£27.50)
Saturday 17th Nov 10.00-15.30
Jan's first class in the popular African series. Lots of stunning blocks and techniques to learn!
Patchwork geometric blocks - tradition and beyond; Susan Denton (£90)
Three day class 19-21st Nov 10.00-16.00
The repetition of simple geometric blocks is a form of patchwork familiar to most quiltmakers and one that forms the basis of numerous traditional and contemporary patchwork quilts. Blocks are an easy way of finding effective ways to play with line and colour and inventing new ones. After paper exercises, student will work on an individual piece of work. Techniques will be covered as the arise: but this class is not suitable for absolute beginners!
Eight petals and a pot; Jennie Rayment (£27.50)
Saturday 24th November 10.00-16.00
Sew simple shapes and add machine appliquéd flowers to create this textured 23 x 23'' floral wall-hanging. Class is suitable for all abilities.
Use it up, waste it not; Jan Prior (£15)
Thursday 29th Nov 10.00-16.30
Use up fabric stash. A gentle sewing day!
Bags galore; Val Murray (£20)
Saturday 1st Dec 10.00-15.30
Bag making class
Surprising 4 patch! Judy Mendlessohn (£25)
Tuesday 4th Dec 10.00-15.30
Cut one large piece of patterned fabric and every four patch block comes out differently. Makes a wall-hanging or a small quilt - but will work well on any fabric...
I'm signing up for Jan Prior's 12-13th Oct Beginner's course - hope to see you there!