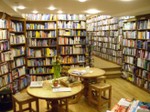 Generally I do try to use local bookshops - but Amazon the book-title gobbler does suck us all in occasionally. Bath's great for independent bookshops though; what a shame horrible Waterstones is slap-bang on the main shopping road for the tourists, when there are so many lovelier ones tucked away to serve us better. Sadly, we lost Secession Books last year. You can read about it here in the Guardian.
But some are, happily, surviving the world of chains and corporate takeovers. To name just a few (which ones have I missed?):
The lovely, lovely man at Topping & Company offered my a cup of tea while I was browsing - that's enough to make me go back there every time I want a book. And it sells the 'Vogue Knitting' books (for it's usual tenner not the wonderous £100 that Amazon sellers wanted).
N.B., there's some wonderful events coming up with Topping and Company and there's still tickets! I'm going to see the fabulous Yorkshireman Alan Bennett tomorrow and Ranulph Fiennes next Monday...If you call Topping & Co., I hope you also get the cheery Robert. He made my day. Alan's event is virtually free as you get his new book, a glass of wine and the event for only £15. I am so excited! I'll ask him to sign the book 'to me mam' for Christmas - in celebration of another equally extraordinary Northerner!