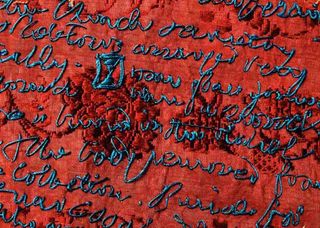 I've discovered Midweek recently and am like a kid with a new toy. Sadly, this series is over until September, I believe, but I'm working my way through the archives to fill the gap!
Rosalind Wyatt was a recent guest. She came across wonderfully over the airwaves. The Midweek website says 'She is an artist who works with calligraphy, textile and collage. She has a life-long fascination with text, words and handwriting and her latest body of work 'The Stitch Lives of Others Parts 1-3' features three garments chronicling the lives and loves of three generations of her husband's family, the Tukes. She is exhibiting in the A21 International Art Exhibition at the Harada-no-Mori Museum in Kobe, Japan.'
Some of her work involved reproducing old letters of her husband's family onto their clothing. I love the idea of stitching handwriting onto cloth and blending two of my favourite things - typography and fabric - and by such an intimate method. Here are some of her pieces.
You can hear the programme featuring Rosalind Wyatt here. 
And, I see, she is running a course near Oxford this month - looks fasinating!