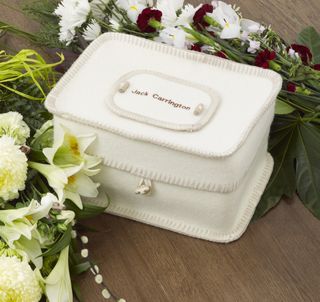 I saw these the other day - not the cheeriest topic, I know, but I think it's really important to give it it's due consideration. John has instructions to pop me into one of these when my time comes. Below is their press release...

---------------------

WAY TO GO!  WOOL COFFINS LAUNCHED
Two British companies have got together to launch an innovative new product – woollen coffins.  The UK's leading coffin manufacturer, JC Atkinson and Son, has joined forces with Hainsworth, a Yorkshire-based speciality textile firm, to produce the new range.  The coffins will be manufactured by Hainsworth at their Leeds mill and distributed throughout the UK by JC Atkinson. (JC Atkinson and Son is committed to sound environmental approaches to all aspects of production, and were awarded the Sunday Times Best Green Company 2008 and the North East Business Award for Corporate Social Responsibility 2008.)
These beautifully crafted coffins are made from pure new wool and are supported on a strong, recycled cardboard frame.  All the materials used are biodegradable and suitable for cremation and all types of burial.  To complement the coffins a range of shrouds, accessories and matching ash caskets are available.  Both the coffin and the casket have personalised embroidered woollen name plates. 
The partnership between the two companies was formed when Hainsworth, a Royal Warrant Holder, which manufactures textiles for a diverse range of uses from pool and snooker cloth to the Queen's Guards Scarlet, had the idea to make a coffin.  They approached JC Atkinson who as one of the leading independent coffin distributors has provided them with a ready-made route to the funeral director market.
Julian Atkinson, Managing Director of JC Atkinson said: ""This is an exciting new concept and one that brings something completely new to the coffin market. For our company, as winner of the Sunday Times Green Company Award, one of the most important things is the environmental credentials of the materials. The wool has a truly green lineage being British, natural, sustainable and biodegradable. The coffins will carry the British Wool Mark and use 100% British wool.  Recycled cardboard is used and all the materials, including the packaging are biodegradable. As the coffins are manufactured in Yorkshire, the distribution costs are minimal and there is the added benefit of boosting a local economy in a traditional manufacturing sector.

The Hainsworth Coffins range ticks all our boxes as well as allowing us to bring something new and innovative to the market. Our customers will know that, however unusual the product, it is backed by our expertise and commitment to both service and delivery."
Rachel Hainsworth, Sales Director of Hainsworth commented: "Hainsworth has 225 years of expertise in textiles and it was a natural choice for us to partner JC Atkinson on this exciting new venture. With Julian's respected reputation and industry knowledge, and Hainsworth's textile innovation and manufacturing expertise we have an exciting new product with a well respected and established sales and distribution network.

This is an innovative coffin and something completely new for the alternative coffin market, but the use of wool in burials is nothing new. The Burial in Wool Act of 1667 made it a legal requirement for the dead to be buried in woollen shrouds in an attempt to boost the struggling woollen industry of the time. With the current social eco agenda, rising concerns on the environmental impact of burials and this innovative product, the industry has come full circle."
For more information visit www.naturallegacy.co.uk