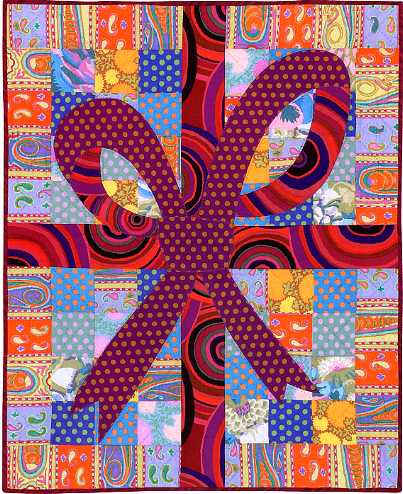 This year saw the curtain come down on my third decade and what a better way to celebrate than to go for G&Ts, then a talk by Kaffe Fassett in Topping & Co. (with knitty friends and wine) and then to the Raven for some ales with more friends. Oh, and have a cake made for me too!
I thoroughly enjoyed myself. In honesty, I love colour, I love pattern, I LOVE polkas - but there was something about Kaffe's work that didn't sit that easily with me and I struggled to put a finger on why. And now I realise: I was looking at the work of his that I like the least. Having seen more of his work - I am smitten. Next year is officially The Year of Craft in my house and I'm already drooling over The Gift (left) and the Knot Garden Quilt.
Eirlys had cunningly remembered a trusty notepad and, as all the birthday alcohol had meddled with my memory, she has very kindly offered to write up the evening (see below)...thank you, Eirlys!
----------------------------------------------------
I've had a secret hankering to be a small, servile cog in the legendary Kaffe Fassett creative needlework machine since he brought out his first inspirational book, Kaffe Fassett's Glorious Knitting (1985).
He took a fusty tradition by the scruff of the neck and shook it until its teeth rattled, making knitting seem suddenly so...well...dazzlingly exciting! Many a happy lunch-hour I spent trotting to and from a Central
London wool shop to choose one immaculate skein of tweedy Rowan yarn after another, happily dreaming my woolly daydreams before resuming the so-called glamorous day job in the publicity department of a Covent Garden publishing house. But, alas, all that I managed to create from my fabulous materials was disappointing fumblings of dubious tension and unsympathetic tone and colour: abject failures which never even made it off the needles.
Fast forward twenty years. Almost every seat in the very long, thin, endlessly shelf-lined Topping Books is taken by the time the Bath Crafting Cranny Posse (aka Geology Jess and her 30th birthday entourage) seat themselves at the back. We are some distance from the microphoned hotseat. Kaffe is on tour promoting his latest exquisite book, Country Garden Quilts: Twenty Designs from Rowan for Patchwork and Quilting and we are here to be edified.
Candace Bahouth, a friend of Kaffe's and a fellow artist, is kind enough to kick off the evening. She is renowned, amongst other things, for her extraordinarily opulent mosaic shoes (not of a wearable type, alas, otherwise) and was Kaffe's co-exhibitor at the deeply soothing Blue & White Exhibition (Victoria Art Gallery, Bath, Spring 2008). Summing up her and Kaffe's approach, Candace says: "In art we thrive rather than survive." She advises her wannabe artistic audience to simply: "Start! Start making! And stick with it! Find a space for imagination to flow." She and Kaffe both believe in not thinking too much about it, in just doing. Don't get stalled by Anglo-Saxon over-cogitation. Just start the process, she urges.
She describes the order in which to work with four memorable C-words:
Collect
Compose
Create
Celebrate
I silently regret that I've never got much beyond the "Collect" stage (I still own a lot of that wool, plus a fair amount of fabric besides), and have been cogitating way too much, for sure. Then, suddenly, it's Kaffe's turn. He is much taller than anticipated and an astonishing seventy years old now. But he still crackles with vitality, his blue eyes twinkling with incipient mischief: no wonder we all want to touch the hem of his techni-coloured robe, hoping that just a little of the magic may rub off.
He begins by saying that he's a very instinctive artist and hates being asked why he's done something in a particular way. A Channel Four producer (who made a programme to coincide with the book 'Glorious Colour') treated him as a painter, which he found very gratifying as it was exactly how he wanted to be treated, he says. He goes on to describe how he grew up in a redneck part of California which was nevertheless full of natural beauty, and lots of artists were drawn to the area; as a youngster, Kaffe identified with them. When he came to Britain in the 1960s, it was the British sense of the ridiculous that he particularly liked; by contrast, Americans can be very earnest. However, he brought with him an American sense of can-do and no-limits, and when Brits said to him: "You can't do that!" it ironically spurred him on. He'd simply go for it.
Kaffe then talks us through a selection of slides (here's some Take Home messages from them):
Kaffe was a painter first, then took to knitting and needlepoint. When he started on quilts, he says, he was clearly not going to produce anything dull. They were going to have to be party frocks!
Pattern is very important to him.
His first still life was in neutrals.
Here's a mosaic he created for his parents' restaurant in California: neutral stones, graded in size.
He's fascinated by neutral palettes, for example the work of the Australian aborigines.
Dots. He LOVES dots! Collected lots of dotty fabrics.
Don't put colour against white walls: pale grey or biscuit are good backgrounds. Use a grey or camel-coloured flannel screen to build a quilt (pin it up to arrange/rearrange into pleasing pattern).
Stripes: Brandon Mably (Kaffe's studio manager) has been knitting a lot with stripes and has his own knitting book out now. Kaffe mentioned being obsessed with the stripes on the bottom of Chinese robes: "Does anyone know what I'm talking about?" he asks. Someone in the audience does, which Kaffe says is unusual: the majority of audiences look at him blankly when he brings it up.
He loves yellow: in Chinese opera, everyone wears yellow.
He recommends flowers: there are so many ways to approach them.
Cycle of Stars - title of quilt using diamonds [which Jess particularly liked].
Kaffe's dining room has pattern everywhere. One guest asked him: "WHERE do you go when you have a HEADACHE!"
Loves seeing where people go with his ideas; he's not possessive of them.
Confidence is an elusive thing: was probably more confident as a young man than he is now. Feels he is frequently stumbling about in the dark.
Helen asks how he balances the constraints of the commercial world with his artistic inclinations. He thinks that's a great question and answers that when he first started out designing for knitwear he would put 200 colours in a single coat; this had to be adjusted downwards drastically for commercial purposes. He knows how to push, though, to get a result nearer to his liking; sometimes a producer will ask him to use four colours, say, and he'll counter with "How about twenty?".
But limitations can also be useful and can even stimulate some of the best designs.
Where does he begin with designing? asks someone else. He's shameless about raping the past. He was inspired by Liberty designer, Susan Collier, who was working with some old Bulgarian designs. She admitted to him that, Yes, she was copying them. But she was also reviving them, bringing them back for a new audience who would otherwise not see them. That's what Kaffe does, he says: he takes something old and makes it available. He goes for stuff that's, in his words: "fabulous, juicy and full of pizzazz". [Link to a bit of Collier Liberty 1970s nostalgia here and here.
Neil asked about Kaffe's failures and how he deals with them and Kaffe says that he's very lenient with himself. He may make a rat's nest, but at least it's a colourful one! And you too must find your creative voice. Wing out. Take chances. Stumble on some good ideas. And he also says that "that horrible thing" that you make while on direction to somewhere else shouldn't be thrown away. Someone will eventually walk into your studio, love it, and pay you a lot of money for it.
When asked what else he'd still like to do, he answers: "Scale!" He'd love to cover an entire building with mosaic, for example. And he is just about to head off to Holland to be involved in a four-storey-high quilt project.
As the talk winds up, books are purchased and many of the crafting posse hang around to get them signed and to chat briefly with Kaffe and Brandon at the far end of the shop. Brandon genially informs me that the homeknit tank-top I'm wearing (bought for a fiver a decade before in a West London charity shop, long after I'd given up hope of ever making my own) is actually a high-quality Kaffe worth up to £150. I am gob-smacked and totally delighted, but feel slightly guilty (afterall, I seem to have leapfrogged the first three stages of the creative process straight to "Celebrate"). Irrepressible Kaffe, though, is off in pursuit of his next idea. He's drawing Brandon's attention to the compelling striped patterns made by the wooden bookshelves, receding down the shop into the distance.
You can find out more about Kaffe Fassett at http://www.kaffefassett.com/
[Eirlys adds that, failed knitter though she is, she is fairly competent with fabric, needle and thread and has started a group on Facebook called the International Sewing Conspiracy, to which anyone (fabulously creative or otherwise!) is warmly invited to join. She also tweets about thrifty crafts etc on Twitter under the name of Scrapiana. Anyone wishing to contact her about a writing project (of any scale) can locate her at the office here.]