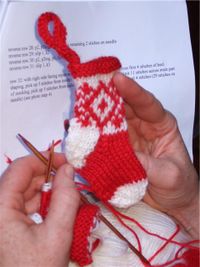 I'm making a pre-New Year's resolution - to remember to take my camera to all Stitch'n'Bitch meetings and to take notes on what people are actually working on...and then to post it all immediately...
Apologies for the rather erratic postings and content this year - it's been one of those years!
Anyway, the dust in Jess-World seems to have settled somewhat and I'm back on the ball...(well, as much as I'll ever be...)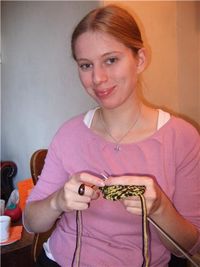 So here's some updates! Elizabeth S has started furiously cross-stitching her Christmas cards (top left); and Betsan is making some mini stockings (right).
Celia is making some freeform ear muffs (left); and Elle is knitting a shawl (right).
I've been bitten by the Floret socks (Bronwyn Lowenthal; Let's Knit! magazine, 9, August 2008)... I've not executed intarsia before and, needlesstosay, socks may not be the simplest thing to practise this stitch on - but, hey!, why make life easy for yourself??
Helen, the two Elizabeths and I skipped over to Get Knitted on Saturday morning for a splurge and a Chrismassy knit - lots of fun to be had! I dented my finances with some Rowan Kid Classic yarn (in Smudge, mmm!) for the Bed Jacket by Jennie Atkinson (from Beads, Buttons and Lace) and some Lorna's Lace shepherd sock yarn in Flamingo. It's stunningly Pink (with a capital P), which pleased me greatly, but the best bit is that 20% of all sales of this colourway goes to breast cancer charities. I don't know of a better way to poke this disease in the eyes with pointy sticks than this.