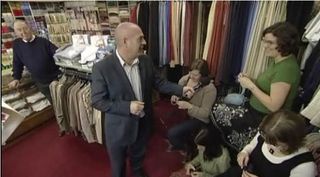 Blog reader Mary drew my attention to Simply Knitting Bath folk on TV today (Working Lunch on BBC2 at 12.30). If you missed it, you can view it here until 12/01/08.
Anyone who wants to skip the boring Credit Crunch blah at the beginning (I should take heed, I know, I know: but it's Monday and it's my first day back at work - so I can't face it): skip to 22 mins 55 seconds in and watch the knitting cheer with a smile from there :0)
They are chatting from Edna's yarn shop, one of the few in the Bath area (4 Brookside House, High Street, Weston BA1 4BY. Tel: (01225) 423058).