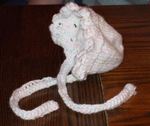 Tuesday's knitting and wine continues to bring winter-cheer.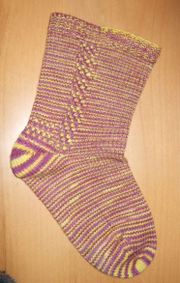 We met Lisa, who's starting a jumper (and modestly called herself a beginner...I've been knitting for a couple of years and am still working up to The Knitting of a Garment). Good tip from her: use paper-clips as stitch markers! Brilliant!
Helen has, as always, been a busy knitty-bee. She's been working on:
a preemie bonnet from a 'Simply Knitting' pattern (left above; but from now on knitted without the ties or with the ties sewn on further down - less of a hazard);
socks from Easy Knit's yum 'plums and custard' yarn (right; but Helen didn't like the Dublin Bay lace so the yarn is frogged, steamed and back on the needles);
she's made the most wonderful Nancy Bush Mamluke socks out of purple and yellow yarns (reminiscent of above 'plums and custard'). They are just gorgeous - they're blocking now so pics up here shortly...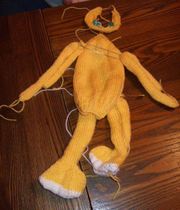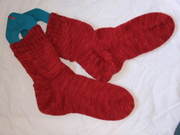 Jackie's been knitting-busy too! Pudsey (right) is developing fast...two months ago he was just a nose, and now he's nearly fully-grown (except for his insides...)
I've been merrily knitting socks for a secret project (more later) but am a little bogged down with non-knitty matters at the moment (buying a house, yippee; freelancing in the evenings; becoming involved with the local Bath Geological Society; and much winter beer drinking) and still trying to rest my wrist (poor Flibbertygibbet's suffering like I am).