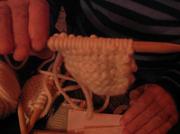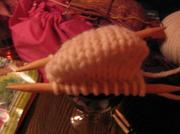 About time for a post with photos, I think!
Tuesday was a good knit-knatter - nice to meet Sarah and Nikki! I was a little fragile - post-knitting-needle-injury - and got soaked by a lorry whizzing through a lake on the Bathwick Street. Humph. But tea and knitting cheer awaited :0)
Peter's been working on his tubular knitting and, in particular, the problem of short rows. Here's his work on the wrong side (above, left) and right side (above, right). He's going to put all this tubular brain-work online in the new year...I'll give a link to it when it's all up and running..!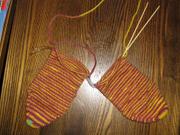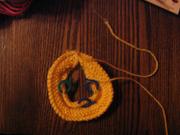 Helen's been battling with her pair of socks on one circular needle (left). (Beware: this way lies madness!) But they look excellent and this is one way to truly solve the deaded SSS (second sock syndrome). I think Helen's getting a bit bored of continually moving the work around the needles (one of the sides of the work is especially fiddly). I'm sure it'll all be worth it in the end!
Jackie's in the midst of knitting Pudsey (and here's his nose; above, right)! When it's completed it's going to auctioned here for Children In Need, so keep a beady eye open...