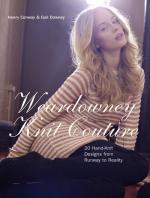 Henry Conway has been gracing our newpapers and TV quite a bit at the moment! You will remember that his father has been reprimanded and had the party whip withdrawn for paying Henry and younger son Freddy salaries as researchers with little evidence of work done...
BUT, it would appear that he also recently co-wrote a book entitled 'Weardowney Knit Couture'. Amazon tells us that: "Gail Downey and Amy Wear, owners of Weardowney boutique, carved a name for themselves with their innovative range of intricate handknitted garments and couture and by publishing their seasonal Biannual magazine with each London Fashion Week. This imaginative and informative book will surely inspire knitting mavens and fashionistas alike. In addition to providing the reader with an in-depth knowledge to the world of fashion and knitwear, this gorgeous book features more than twenty designs complete with coloured photography and easy-to-follow instructions. Charming illustrations accompany advanced techniques used in the projects. Weardowney invites movement of a beloved craft, maintaining its unique successful qualities whist extending present limits to promote and progress an infinite medium."
Looks great! Although - given how much he was paid to sharpen pencils (allegedly (said in an 'Ian Hislop tone')) I'd rather not hand him any more cash right now..!