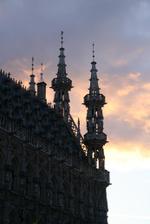 Our firm have just returned from a wee Jolly in Brussels - and a good time was had by all..! You can see some pics here. I lived in a village just outside Brussels, for some 4 years as a child, so I popped there first to stay with my adopted Granny and help feed the goats and dig up the endives. Lovely to be back...
Mosselen en frites in the wonderful University city of Leuven (right) and an abundance of beers and chocolate...perfect Jess time...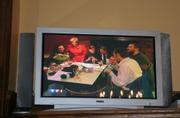 The morning that we were returning to the UK, we stopped at a cafe for a spot of Croque Monsieur and a coffee and I saw a Newsbite on the TV about knitting in a pub (left)! :0)
I did study French for many years but it's all rusted to dust now, I'm afraid. But I think they were saying that people are taking it up to survive the Smoking Ban in Belgian pubs (I'm a little confuddled about the status of the smoking law; some posters implied that it was banned in all public places from 01/01/08 - but we saw little evidence for this being enforced - and some websites imply that it is still allowed in pubs but not in restaurants/work places).
Knitting is a great distraction if you're a fidgeter trying to quit the evil weed (I speak from experience) and there's evidence that it's helped other smokers in the UK.
As an aside, I came across this intriguing article when I was googling this Belgian story and then this hysterical article...bwahaha! Oh the joys of internet browsing....now, I must get back to this freelance editing...sigh!