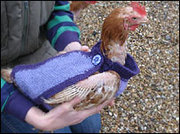 The weather is rubbish. Knitting with metal needles whilst waiting for a bus is now impossible without them freezing to your fingers.
But, imagine if you were a chicken! And a featherless one at that...
Brigitte Hawley from Benenden has been knitting her ex-battery hens little woollies to keep them nice and toastie. You can see the video here!