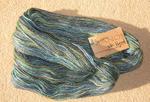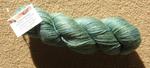 The knitting group/shop 'I Knit London' (IKL) hosted the UK's first official Stitch 'n' Bitch Day last Saturday and Helen and I were happy partakers. Meeting at the train station at 7am was a rather auspicious start to the day – but it rapidly improved. We managed to pour over the street-map for a good few minutes trying to work out where the hotel was – before realizing that we were standing next to a massive sign for it… I'd like to blame it on the early start to the day but, frankly, it's just because I'm rubbish at directions.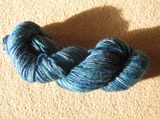 We popped next door for a quick coffee and sugary victuals to give us some shopping energy…and then, suddenly, it was 11.30 and we'd managed to miss Jane Waller's 'A Stitch in Time' and Debbie Stoller's workshops. Damn. So now I have no sense of direction and no timekeeping ability. I did have a browse through their books though – and they're both definitely on my Wish List. Furthermore, all the woolly gems in the market pulled us in and meant we also missed the crochet flower workshop by Jane Brocket (AKA Yarnstorm).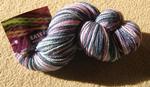 Anyway, less of what we managed to miss and more about what we did do! Erm…shop. And fiercely! And lots of: "ahs", strokes, squeezes, rummaging, planning, envisaging and "ooohs".
There were lots of stands selling wares. In a mere 60 minutes, Helen and I managed to notch up the following...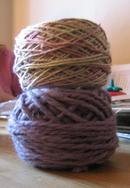 Skeins of: Manos Del Uruguay silk (very top left, I recommend clicking on the photo to see its full glory); Natural Dye Studio's Mirage (very top right) and teapot cosy kit (right); Fyberspates' wool in a gorgeous bluey-teal and their reversible 'Wave' pattern (can you tell what my favourite colour is yet..?; upper left); Easy knits' Liquorice yarn (upper right) and the spectacular Plums and Custard (left); drop spindles and lovely wool tops from the lovely lady at Fibrelust; and lots of goodies from Garthenor Organic pure wool (bottom left and right).
More about Easy Knit and Fibrelust later but just a wee word about Garthenor Organic wools. All their yarns are unbleached and undyed from traditional and rare breeds of British sheep. They sell oiled and washed versions of their yarns so you can experiment...My biscuity-coloured wool (the 50g balls in the photo) is a blend of a brown and white spotty breed (I love this thought - I'll giggle whilst I knit with it!).
Chris King was really helpful and informative and his son helped me find the right wool (I asked him if he'd got roped into helping, to a little nod...I said that I hoped he was getting a treat after, to which he whispered 'pizza!' Tee hee!)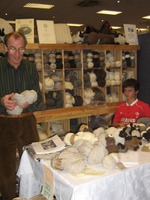 All my rules about buying yarn only for planned projects went completely out of the window. I did consider hiding my wool in a cupboard and producing it in small batches so John wouldn't notice the sheer volume… But, anyway, I am convinced that this splurge will get me through the throes of ferocious winter-knitting and out clearly the other side...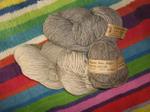 And, thankfully, we did keep an eye on the clock in time to see Betsan's wonderful presentation about the therapeutic effects of knitting. You can read more about her work here. There was so much in her talk to fascinate - and I'm going to share it soon - but, for now, enough woolly-waffling. I'm off to wind my Liquorice sock yarn and drink wine. The best way to spend a Monday evening...