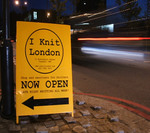 The knitting group and shop 'I Knit London' (IKL) is hosting the UK's first official Stitch 'n' Bitch Day! Hurray! It's on Saturday 10th November at the Royal National Hotel in London. Read more
here
! (their website will be regularly updated as things progress!)
The main reason for the event is to host the launch of the next book in the Stitch 'n Bitch series. Debbie Stoller will be making her first UK appearance to meet and greet SnB groups and sign copies of the new book,
Son of Stitch 'n Bitch.
She will also talk about the SnB phenomenon, host a Stitch-Doctor workshop and a fashion-show based on designs from the book.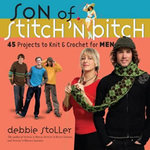 There will be talks and workshops from other designers (including Betsan Corkhill of
Stitchlinks
in Bath), entertainment from DJs and Amy Lamé's Pom-Pom International, art and charity knitting projects, plus vendors selling their wares - yarns, needles, books and accessories from across the UK and further afield all under one roof! There will be a photo shoot; the largest SnB group ever assembled!
As this is first and foremost a celebration of Debbie Stoller and the SnB movement, every SnB group in the UK is offered a group discount on tickets. A minimum of 10 and maximum of 20 tickets have been allocated for every group at the discount rate of £5 per ticket (£7 standard, £9 on the day).
Payment must be made for all tickets in one transaction - IKL can't add any extra tickets to the group allocation once numbers have been confirmed: please let
me
know if you wish to come and I'll place the group ticket order..!
IKL would like to include some kind of display featuring work from all the SnB groups in the UK so we can supply any photos of our group or articles from any of Debbie's books that we have knitted...anyone willing to display photos of their Debbie-pattern knits?