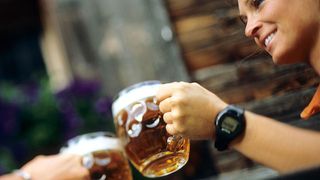 Delighted to see that Friday's Woman's Hour featured three of my favourite things :-)
[Listen again until 20/08/10.]
I've long reached for a pint of dark over a G&T - which does occasionally seem to raise some eyebrows. Especially in Manchester - my hometown - which, until recently, seemed to mind girls drinking a pint nevermind a pint of ale.
"Synopsis: Mine's a pint: - why more women are reclaiming real ale as their drink of choice. Beer and real ale is going through a revolution. The industry, which had been awash with cheap and cheerful lager, is welcoming back local micro-brewers . And the complex and crafted flavours combined with a sophisticated marketing campaign - and a proven track record to contain less carbs than wine - are winning over the thirsty women of Britain. We will be looking at why the number of female ale drinkers has doubled in the last two years, and Jenni will be making her own mind up, as she tries some of Britain's best flavours.

Bluegrass from Devon - The Carrivick Sisters are twins Laura and Charlotte who play the traditional mountain music of Appalachia, with a west country twist . They've been playing since their early teens and this week-end they're appearing at Saltburn festival in North Yorkshire. So what's the appeal to these young sisters of the American Roots Music made popular by the film Oh Brother Where Art Thou? Hear their Bluegrass fiddle and banjo live in the studio.

Knitted Lives - an exhibition of everyday objects knitted by women in Newcastle."
Some more info on Knitted Lives expo is here....smashinng stuff.