The BBC is coming up trumps at the moment...the lastest favourites in our household are Inside John Lewis, A Band for Britain (with the WONDERFUL Sue Perkins), Eddie Izzard's jaw-dropping Marathon Man and Mastercrafts.
I've talked a little about greenwood here before, as I'm a big advocate of Tim Gatfield's Cherry Wood Project.
The other topics covered in the series: thatching; blacksmithing; stained glass; weaving and stonemasonry. A nice broad range to please lots of us. (I thought the thatching one was excellent - was gutted that the fab Kate Edwards didn't win. I hope her plans to build a thatched roof on the cob house that she building come to fruition...)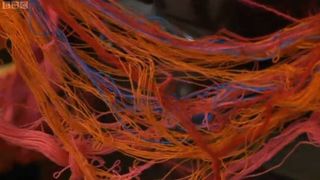 The Weaving one features Margo Selby (some of her textiles are available in Gallery Nine in Bath). There are currently fewer than 200 weavers making a living from hand-weaving in the UK...and, by the standard of the three taking part in the Mastercrafts, hopefully three more soon!
All three were astonishingly skillful (esp. when you think that all these ends (pic on left) - all 1000 of them - have to be pulled through the loom during set-up before they can even start the weaving!).
But Tref Davies was outstanding in his creativity. All the best to you for the future, Tref.
---------
And Leo Hickman makes me smile yet again...worth a read...