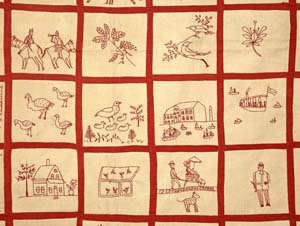 The lovely Eirlys took me to a Jazz event at the American Museum in Britain a little while back and we popped into the American Beauty exhibition...
It was wonderful stuff - and we drooled over this quilt for ages. Laura Beresford, the curator, joined us - she told us that each picture was drawn by a school child and then (an adult presumably) stitched over it. I don't think we know the precise year of its creation - but the civil war themes of some of the pictures (heartbreakingly) date it around then.
------------------
Look out for the Museum's upcoming quilt exhibition 'Classic American Quilts' coming in March 2010!