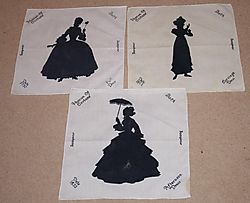 I recently found these lovely handkerchiefs in Vintage & Vogue (left); I'm not sure why they were commissioned. They seem to have been made by Jacqmar: the renowned British company that produced some of the most sought-after scarves, especially during the Word War II era.
They display carriage, full and afternoon dress images - my favourite is the afternoon dress...isn't it pretty?
I also picked up a leaflet about the 'Vintage Fashion & Textiles Fair' presented by Ashley Hall Fairs. They look great...I'll definitely be going to the next Bath fair (14th Sept)...