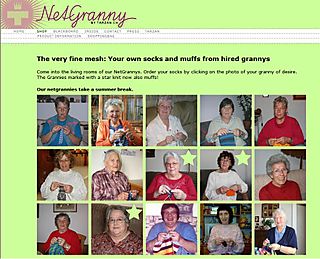 Last week, a damning Lords report by the Science and Technology Committee strongly criticised the wastefulness of cut-price High Street fashion. The report declared that the growing popularity of stores such as Primark was 'costly and socially unacceptable' since the clothes are now so cheap there was no incentive to repair or recycle them. Wise words. Read more here.
A comment from the Daily Mail's style editor, Liz Jones, is here:
'It would be a start to buy British wherever possible. The once thriving garment industry in the Yorkshire Dales and the Borders is on its knees, with one of the last family-owned mills about to close its doors.

This is because we now all wear wool and cashmere from Mongolia and Australia (oh dear, I could tell you some horror stories about the Australian sheep industry).

Wool from endangered British breeds like the Wensleydale and the Shetland is the best in the world: it lasts for generations (in contrast, ever noticed how that Tu at Sainsbury's sweater goes all bobbly and sprouts holes?) and feels as soft as silk.

The small, ethical Yorkshire fashion company Izzy Lane has just announced it will produce a range of British wool sweaters, each bearing the name of the granny who knitted it in her own home (this was the idea of model Lily Cole; she didn't gain a place at Cambridge for nothing).'
[For once: I agree with the Mail. Wow ;0) ]
My mum, however, has started sweating: "Is this grannism? If so, can I sue? Will I be abducted and forced to work from a care-home? Will they keep us alive with drugs so that we meet the orders of the privileged who can afford home-knitted jumpers? See next week's exciting instalment!"
(Don't worry, Mum, I'll fend them off with my pointy sticks!)
And whilst researching this granny exploitation, I came across this wonderful website (left). Get your christmas knitty orders in as soon as possible! ;0)