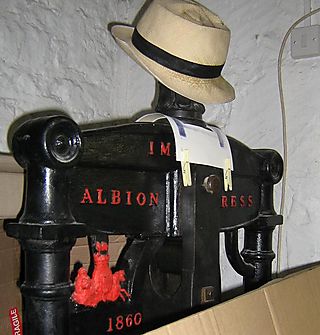 I am peculiarly drawn to words in any form. I love the way they feel on the tongue, look on a page and the noises they make as they're written or typed...
I also happen to love fossils. A bizarre blend, I admit, but it works: and, but cheery happenstance, I happen to have found a job that encompasses the two (serendipity of the highest order, I'm sure you'll agree).
My other fondnesses are wool/my pointy sticks and needles/threads. You can imagine my surprise when I discovered that to be a lover of both words and wool is not an uncommon union (I wonder if there are any other wordy, wool AND fossil lovers out there??)!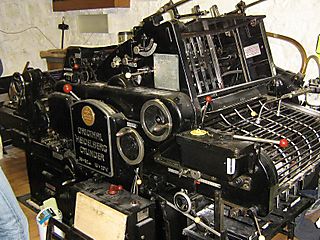 I know four other knitters in Bath that have also worked in publishing...I wonder what can be read into this? The trait of loving the minutiae and detail of life makes a patient stitcher? Whatever the reason, I am delighted.
There is a meeting of publishers in the Bath/Bristol area in the Raven pub on the first Tuesday of every month and we chat about words and drink beer. There are freelancers, graphic designers, authors, website designers and even a Bath bard. We are a merry band – please join us if you are passing!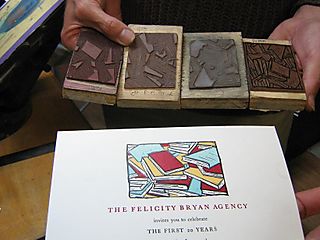 The organizer of the Publishing meetings, Richard Lawrence, has a studio in Widcombe Studios where he prints the most beautiful printing material. We went to a talk recently by Martin Andrews about a slightly odd wood-engraver called Robert Gibbings...what a colourful character Robert was (wrote and illustrated books on travel and natural history, ran off with the sister of his wife, a nudist, proprietor of the Golden Cockerel Press, did some of his drawings of sea animals underwater). Martin delivered the talk beautifully. The Widcombe Studios seem to be stepping up their public profile, which is great to see.
Here are some lovely machines that Richard uses: the Albion handpress (top left) and a Heidelberg Press (above right). I love these cuts (above left). They clearly display the printing process: the careful build-up of colour and lines to form the perfectly finished image. He's happy to take classes if enough people are interested, or you can pop in and see what he's working on and perhaps have a go yourself. You can contact him by email.
Richard tells me the place to visit for All Things Typographical is St Bride Library, Fleet Street, London...and the Type Museum is due to open in 2009...watch this space...