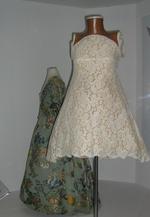 Bath is lucky enough to have the Fashion Museum at hand (formerly the Museum of Costume). Much to my chagrin, I've not yet been (only except when they had a teeny tiny bit of their collection open during the refurbishment last year).
So, Mary and I pulled on our big coats (snowing) and shades (sunny; the British weather lived up to all expectations) and popped down to have a gander. Brilliant (£7 but if you're a Bath resident then it's free of charge...bonus!).
In order to whet your appetites: here's a wee peek at a millionth of the vast collection that was available to gaze at.
(1) A white cot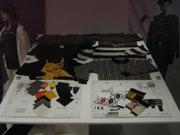 ton lace dress and moulded leather collar: if there was ever a fashion paradox...here it is (left). Alexander McQueen's concoction: pretty 'field of flowers' charm coupled with a prosthetic-limb type harshness. Whether you ike it or loathe it: it's certainly challenging;
(2) There's a collection of knitwear, including this (right) from knitwear-designer Sarah Dallas. If you're vertically-challenged (me - but, hey, my mum's 4' 11'' so I've done pretty well all things considered), it's not that easy to pour over this bit (I'd like to have had a good ogle) but the written information that is provided is interesting;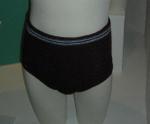 (3) There is some wonderful knitted swimwear, like these trunks from 1943 (left). Men wore full body swimming-suits in the 1910s, an increase in the cutting-away of swimming-suits was seen in the the 1920s and 1930s (perhaps due to the increased trend of sunbathing?) and finally, by the 1930s, the wearing of trunks had became fashionable. (we are spared versions of Borat's 'mankini' - phew!); and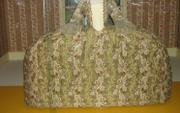 (4) There was a wonderful timeline of fashions - splendid dresses that would have let your chest hang out, but as long as ankles were covered then you were considered modest (?!) - and there dresses resplendent in ruffles and frills. We shrieked at this dress (right), which would have meant wearing cane 'panniers' on your hips. Seriously.
Topped off with a potter around the wonderful building and a cuppa tea and sticky bun - t'was a lovely day! Stitches for the soul.