Another year has passed! A year ago I was still merrily knitting scarves and other rectangular/square shapes... with no hope of anything more tricky and now I can (almost) turn a sock heel whilst watching TV. My knitty-confidence is a lot higher - and that's definitely due to the S'n'B meetings... Thanks guys!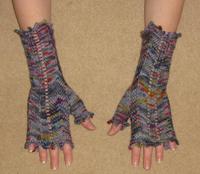 I hope the meetings have been as constructive and cheery for you all too!
I finally finished the Miss Potter mitts from Yarn Forward! It's a really beautiful pattern once you've cracked the editorial glitches. I think these are going to be on my list of favourite knits!
If you'd like to send me some pics of your Xmas knits (given/received) or any woolly gifts I'll post them up!