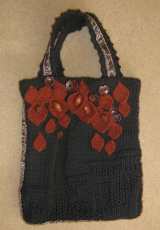 I spent a lovely knitty-afternoon with Sandra today (lovely to have you home, Sandra!) And she's been busy knitting! Look at her lovely Autumnal bag - it's so beautiful! I love the mixture of textures, details and beads...

And look at the lining! Could it be more perfect for the autumnal theme?! Wonderful..!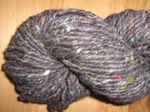 It's inspired me to start the felted bag that I've been planning for ages (with Debbie Bliss' Donegal Chunky Tweed)...
I need something to immerse myself in anyway this evening: JohnBoy is flicking between the football and rugby so quickly he's likely to induce epilepsy and he's got the cricket through an ear-piece...sigh!