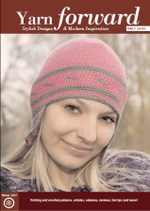 The new wool tent at the Trowbridge Village Pump Festival was (wo)manned by a lovely girl called Laura Bobbins (how great if this is her real name!). She's based in Portsmouth I think. She gave me the Yarn Forward magazine with my woolley purchases...and I love it!
It's edited and published by Kerrie Allman: who also also owns MagKnits (an online free knitting magazine), HipKnits (a hand-dyed yarn company) and SewHip (a funky fabric store and free magazine).
There's lots of nice, simple and well-illustrated patterns and ideas in there. It's still somewhat in its infancy (their first issue was only published last Autumn), so it's nice to be able to support them with a subscription (and at £18 for 4 issues/yr it's a good price too!).