I'm going to the 'Knitting and Stitching Show' on the 15th September in Birmingham with Mariana! Can't wait!
I'm looking forward to seeing Hélène Soubeyran's exhibition: she says she uses 'biological, geological, pedological inspiration' for her work! Science and wool amalgamations - my favourite!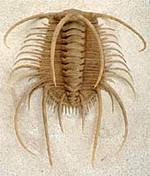 Hmm, there's an idea? I wonder if I could try and knit my doctoral supervisor a trilobite? It might be possible if it's a nice, smooth one and not like the one on the left! Any ideas?