I have been moaning on for years about being one size in one shop and a quite different one in another. Online shopping causes head-scratching as I struggle to remember which size I take in what shop. My partner can't ever buy me anything on a whim (nice excuse!) and I have to take a gazillion number of the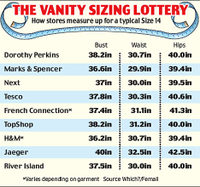 same item into the changing-room in the hope that one of them fits... bleugh.
This must happen to people all over the globe, men and women (although one suspects, as women generally buy more clothes, this situation is more annoying to women than men?).
More irritatingly (to weeds like me), it seems that sizes are generally getting
larger: it's pretty lucky I like GapKids! And it's also lucky that my employer is relaxed about casual wear - trying to find a formal suit if you're a little person seems to be getting increasingly harder...
Worse, many shops are now stopping the production of their smaller sizes so, unless you've changed in line with the average trend, you're out of clothes!! Monsoon has now officially stopped making their hard-to-find Size 6, which was handy for those, like me, who have noodle arms.
So - it seems that now there may be a Europe-wide standardized system! Hurray! Exact hip, waist and bust measurements would be printed on labels - leading to a more exact science for well-fitting clothes. Read more about it here. Fingers, and coat-hangers, crossed.