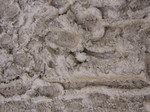 I've been practising my crazy jigging for weeks now but even that wasn't enough to prepare me for the complication that is: mud. It does hamper a good ole dance somewhat.
The Trowbridge folk festival is a cheery, beery, foot stomping kind of event that takes place (misleadingly) in the beautiful village of Farleigh Hungerford. This year's ran from last Thursday to today.
Thursday evening was lovely but most of us were bracing ourselves for rain. And rain, it did.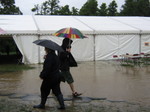 It rained absolutely torrentially on Friday, brightening up to a steady downpour on Saturday, a blink of sunshine on Sunday and a blinding bit of rain this morning. (Although, now my head is peeking out of the festival bubble it seems we fared pretty well compared to some places...)
Due to the really hard efforts of the festival staff the event stayed open and - in fact - seems to add to the enjoyment of many..!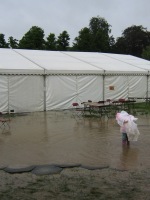 Luckily, John-the-geologist had made sure we were totally prepared so our tent and us stayed pretty dry the whole time...but lots of people had to make do with plastic bags tied in a cunning fashion to act as a waterproof jacket...
The music made up for weather: Seth Lakeman (who else can jig, sing and play the fiddle simultaneously??); the wonderful Eric Bibb; Kate Rusby (her broad Barnsley accent completely disappears once she starts singing); the lyrical genuises Show of Hands (you can see one of my favourites based on the former Minister of State Kim Howell's comments about folk music here - actually I think this was filmed when I first saw them live a couple of years ago); and this year's surprise, Gareth Pearson: 18 years old and one to keep a beady eye on...this video doesn't do his electrifying live performance justice...
The best bit though was the new wool-shop tent: hurray!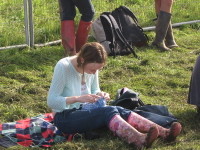 Some HipKnits silk yarn to add to the stash (below) but, for now, I've turned my flea-attention span to socks: more of that soon!