Not that you'd know, from listening to me knit: the ranting and raving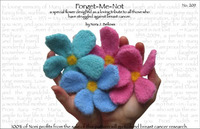 with fury as I gather up all those dropped stitches and rip inches off my needles (At the last S'n'B meeting I ripped 5 inches of carefully knitted smoke-ring scarf (garrrrh!) Wine please!). But it surely serves other functions. Knitting is a brain-balm: knit and forget...knit, purl, purge. Of late, it's definitely been a way for me to focus attention away from things I'd rather not accept…
Nora of Nori Designs has created a beautiful pattern for Forget-me-Not flowers: all the proceeds go to Breast Cancer Research (the pattern can be purchased through the 'Spring 2007 - embellishments' link from her home-page). Now I can knit, purge and contribute to the scientific understanding of this unrelenting, indiscriminate disease that has cast a recent, dark shadow... (but beware: grief makes for angry knitting...)
Any knitted in memory of loved ones will be worn by Dorret Conway (of Knit Knack) on June 17th Edinburgh when she walks the Edinburgh Moonwalk. Send your flowers to: Noni Flower Appeal, PO Box 1052, Preston, Lancashire, UK PR1 0XS.
I'm off to buy the pattern...and knit like a lunatic.
POSTSCRIPT 17/05/07: Get Knitted at Bristol is now selling the flower pattern online here and in the store.