I was lent a lovely wee book by a colleague (thanks Sally!) called 'Traditional Knitting' by the Good Housekeeping Institute from the glorious 1980s. It's got some fabulous stitches in there: Christmas trees, viking boats, llamas, seaweed, turtle tracks...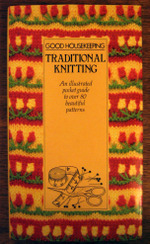 I liked the look of the strawberry stitch and thought I'd have a bash...but halfway through I was regretting my choice: it had a bobbly, yuk, organic feel about it. I felt like I was knitting intestines. Bleugh.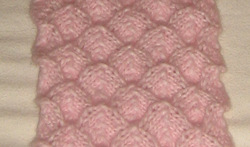 But, persevere I did. I took Eunny's blocking advice and glumly finished the work, sticking in the pins with extra force.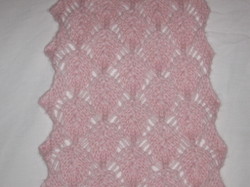 And, then, in the morning look what was waiting for me:
Mmmm! The recipient is to be a supervisor of my Zoology project all those years ago at Edinburgh Uni (which initiated my future fascination in pesky trilobites): and, if you squint a little, can you also see a mass of trilobites in this pattern? Ah, the Knitting Gods were smiling.