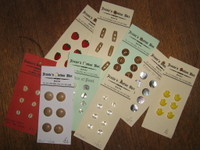 What is it about buttons and beads that make our eyes go funny? For all intents and purposes, they are just blobs of wood, resin or glass. I blame my addition on marbles. If you're hooked on swapping spherical glass, with paper strips inside, at the age of four what can you expect later in life? Evolution in action. Sigh. An expensive habit, this.
Jessie's Button Box is far, far superior than mine...but I did manage to incorporate a little of her collection into mine own a couple of weeks ago. 50 years from now we might be equal...
P.S., but the best thing: I discovered some fossilized walrus-tooth buttons. Talk about combining your favourite things!