YAY! My Get Knitted order has been delivered!! Oooo, be still my shaking hands! Good job they put sugary sweeties in the tissue paper to help steady them! I was lucky enough to get Debbie Bliss Maya 100% wool in my favourite colour: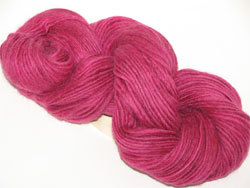 And, what's more, it was on offer! Only £6 for a hefty hank! Hurray!
Other wonders were this pattern book (below left) and pure silk (below right):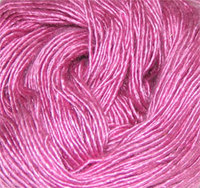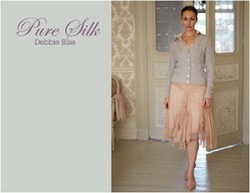 The patterns look lovely. I've not yet tackled a full garment...and this curved edge jacket is top of my list. But I'm not sure I can afford to make it just yet! (9 balls of silk at £6.50/ea is a steep price to pay for something I might mess up!). A word of warning: muppet here tried to convert the hank to ball, created a migraine-inducing muddle, and the eschewing untangling caused the silk to look a little tired. Booooo.
Ooo, and a couple of hanks of this divine wool (Colinette Cadenza in Slate; right). I'm thinking socks when I've more knitting-courage. These lovely colours should give me some help me find the nerve...