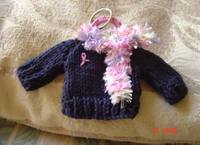 Wendy and Victoria Else in Matlock, Derbyshire, have organized a great campaign: 'The Knit a Natty Key Ring'. The idea is for people to make miniature knitted items to be put on key-rings and sold in order to raise money for Breakthrough Breast Cancer. All you need to know is here:
Download KnitaNattyKeyRingCampaignInvitation.pdf
.
I've asked if she could send us 20 or so split-rings - which would mean one evening's work for 20 of us! I'll be making some: the cause is a closely-supported charity by me (
only THREE weeks to go
). Please
contact me
if you'd also be willing to make something and I'll can give you the key-ring bits'n'bobs! Their deadline for knitted key-rings is 1st of November.
The other way you can support this cause is to purchase some completed key-rings - I can put in a order on behalf of the whole group so, again, please drop me a line if you wish to buy some!